Photos circulating on social media purport to show Pope Francis wrapped in an LGBTQ pride flag. This is false; visual inconsistencies indicate the pictures were fabricated using artificial intelligence.
"Fuck #PopeFrancis …," says a June 15, 2023 tweet sharing four images of the pontiff with a rainbow flag around his shoulders.
The photos have circulated elsewhere on Twitter, including in Spanish. The posts come amid a spike in anti-LGBTQ disinformation on social media, which coincides with the celebration of pride month in June.
The earliest iterations of the pictures that AFP found online stem from a Twitter account called "Gay Forest." The images were shared on a Facebook page with the same name in April 2023.
Both posts include #midjourneyv5 and #midjourney, referring to a tool that uses AI to fabricate photos.
AFP reached out to Gay Forest for comment, but a response was not forthcoming.
Visual inconsistencies
AFP found no evidence the images shared on social media are genuine — and some visual signs confirm they are altered.
"Hypersmooth" skin and objects with odd features are signs of AI manipulation, Del Walker, a senior character artist for the video game developer Naughty Dog,previously told AFP.
The pride flag in the pictures shared online has such inconsistencies. For example, the stripes do not align symmetrically around the pontiff's shoulders.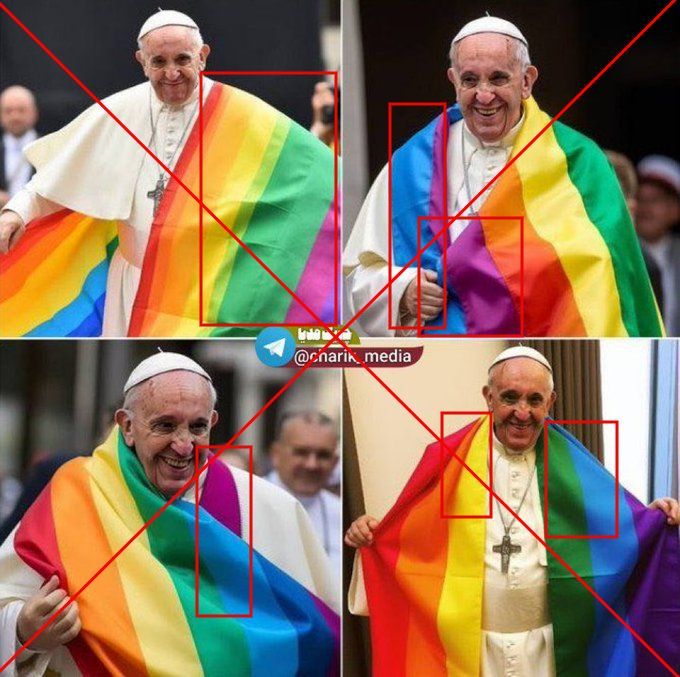 AFP photographer Alberto Pizzoli captured images of Pope Francis on June 16 after the pontiff was hospitalized in Rome for surgery. The pictures show Pope Francis in traditional papal wear, including a pectoral cross at the center of his chest.
A close-up of Pope Francis's pectoral cross also indicates the photos shared online are fabricated. The genuine picture shows religious imagery with a corpus (the body of Jesus) and a flock of sheep, lacking in the shared images with the pride flag.
AFP has previously debunked other AI-generated images here.